virtual and in person camp registration now open!
💵

Register risk free with our

Money Back Guarantee™ 

on all camps this summer.
💵 $25 Multi Week

and

$25 Sibling

discount applied at checkout.
*All Professors will be fully vaccinated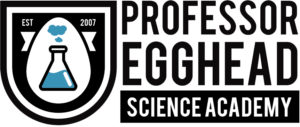 Making Science Accessible, Understandable, and Cool for kids ages 4-10
SEE OUR COVID 19 RESPONSE AND SAFETY MEASURES FOR IN PERSON PROGRAMS
We are absolutely committed to maintaining safety for our Eggheads and our Professors during these times, and have instituted a number of safety measures in accordance with guidance from the CDC and local health policies:
All Professors must wear a face mask and gloves for all in person programming.
Professors must screen themselves daily before departing for any class, and if any temperature exceeds 100.3 degrees, our office is notified and class canceled or substituted.
All materials used are new and/or sterilized prior to use. Students do not share materials or use any previously used materials.
Students must be socially distanced 6 feet from teacher at all times.
Class are to be held outdoors.
Gr

oup sizes are limited to 10 students, with 5-7 students maximum preferred.
Parents must check temperatures of students before sending them to class for the day and not send them if temperature exceeds 100.3 degrees.
book an at home science summer camp
Science Enrichment Classes
We do science, and we do it right. All our science classes are fully hands on, and whether you're at home, in school, or anywhere else, you can join us in the Lab with our classes.
We provide simple, real world explanations, by getting our hands messy… which translates to real learning. On top of all that, it's fun. Ridiculously fun! We pride ourselves on taking a different approach. We think you'll like it.
parties and Events
It's tough to think of a reason NOT to do science, so when we have a reason to celebrate, there's one answer for what to do. Mix, pour, and have a blast with us as we handle it in style.
Professor Egghead provides Science Parties, Slime Parties, Special Event, Assemblies, Booths, and Workshops on over 100 science and engineering topics. You pick up the phone, and we do the rest.
A Word
From the Professor
" Thanks for joining me in the lab! I can't wait to experiment with all of you and see you all soon. 
Remember, ANYWHERE can be your laboratory – your house, your school, the beach, your yard, or even your bedroom! Have fun, and mix up something cool!"