Professor Egghead Science Academy Provides mobile Science Parties at your home, park, school, or facility. We have options for every need, let us help you be the parent who threw the best Science Party of all time!
How to Book?
First, browse our party packages below or call us at 818-856-3996 to help you pick.
Then, submit an inquiry for your desired program. Let us help you find the perfect party for you!
ultimate science party - $299 and up
Our Party Professor kicks off with 35-40 minutes of jaw dropping demonstrations like huge dry ice bubbles, chemicals changing color, walking through a cloud, imploding cans, dry ice rockets, and more!  During that time, the birthday Egghead becomes the Assistant Professor, helping out with the demonstrations. Then, once that part's done, it's on to experiments, where you'll choose the theme, and we'll make and take home an experiment to match it!
best for 5-50 kids
Best for Ages 4-10
Best for: Birthday Party / School Event / Class Party
Length: 1 Hour
Cost: $299 for up to 20 participant, $5 for each additional participant. (Participants are only kids who make experiment to take home, there is no fee for any observers). Driving fee applies >15 miles from zip 91601.
Complimentary t-shirt and science party poster for Birthday Egghead if applicable
Themes: What's a Matta, Gravity Gone Crazy, Freakin' Frozen!
Take-homes: Fake snow, slime, or a homemade bouncy ball (all participants do the same experiment to take) along with a sticker from the Professor.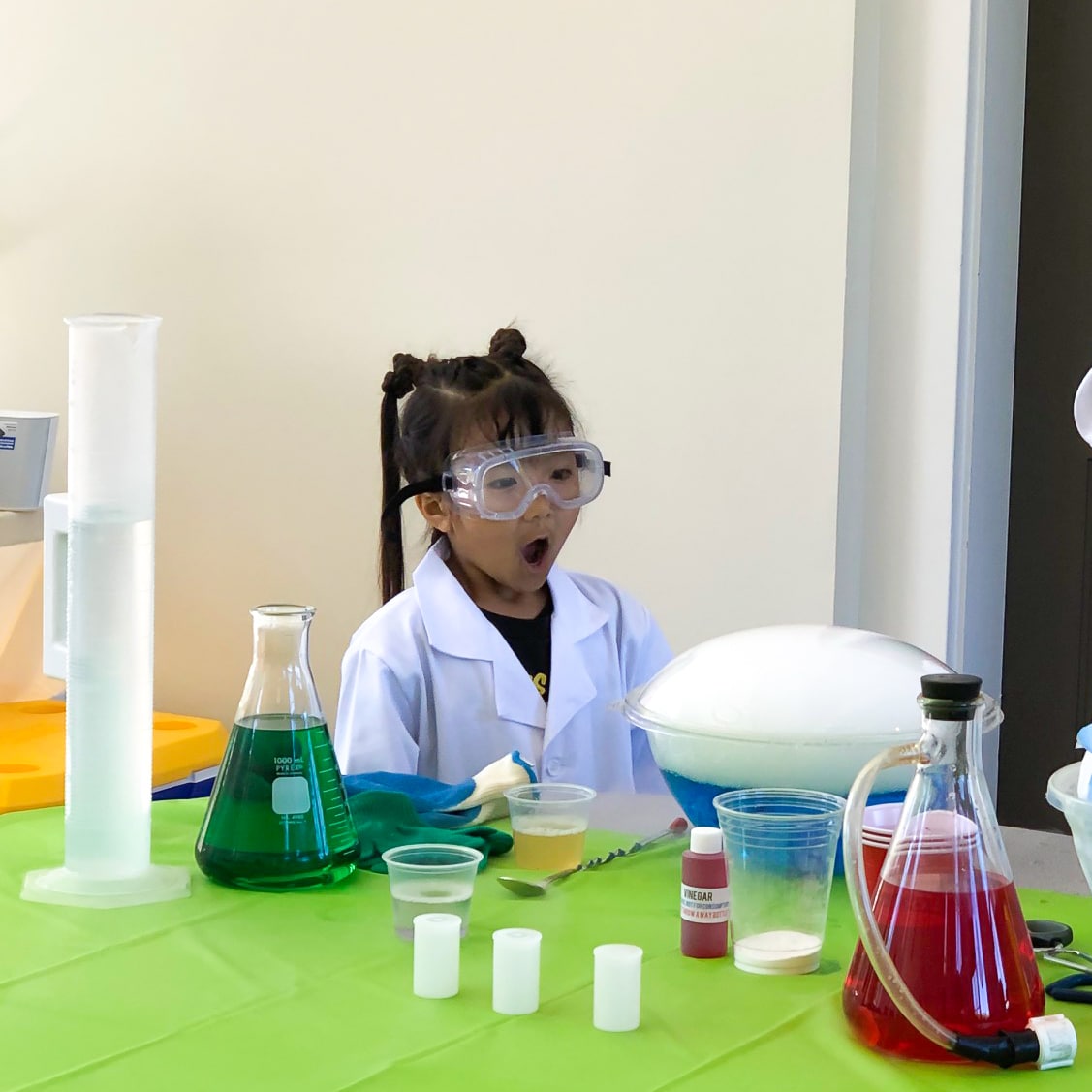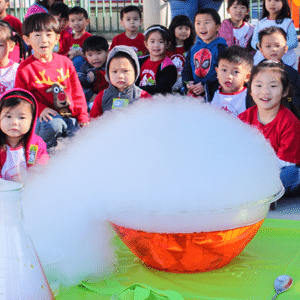 science shows - $259 and up
Kids will get to see amazing demonstrations done by the Professor with help
from the audience during this science party and show. Demonstrations include amazing giant dry ice bubbles, magic color changing chemicals, dry ice bubbles you can hold in your hand, magic imploding cans, sky high flying dry ice rockets, and tons more! During the show, students will aid the Professor in many of the experiments as they learn all about matter, pressure, temperature, polymers,and tons more!
Designed for large groups and assemblies
Best for Ages 3.5-12
Length: 45 Minutes
Cost: $259 for up to 50 kids, $299 for up to 100 kids (Max 150 please)
Drive Fee: Applies > 15 miles from zip 91601. 
Location: Park, School, Home, Recreation Center - anywhere with water access.
Requires access to water and one table per booth (4+ feet)
booths and stations - $299 and up
Kids will get to create their own experiment from scratch as we talk about the science behind each of our creations. Each of our stations comes with an Egghead
Professor, enough materials for all of our Eggheads to make their own experiment, and a take home MiniLab for it to go in with a nice sealing lid.
Ideal for fairs, large events & multi-vendor parties