Be the parent with the Halloween Party everyone remembers!  If you want to get seriously spookified, call the experts. With slime, witches' cauldrons, dry ice, potions, and brews, Professor Egghead is ready to give you the coolest Halloween party EVER!
How to Book?
First, browse our party packages below or call us at 818-856-3996 to help you pick.
Then, submit an inquiry for your desired program. Let us help you find the perfect party for you!
science halloween party - $299 and up
Our Party Professor kicks off with 35-40 minutes of jaw dropping demonstrations like huge dry ice bubbles, chemicals changing color, walking through a cloud, imploding cans, dry ice rockets, and more!  During that time, the birthday Egghead becomes the Assistant Professor, helping out with the demonstrations. Then, once that part's done, it's on to experiments, where you'll choose the theme, and we'll make and take home an experiment to match it!
best for 5-50 kids
Best for Ages: 4-10
Best for: School Event, Birthday Party, Holiday Celebration
Length: 1 Hour
Cost: $299 for up to 20 participant, $5 for each additional participant. (Participants are only kids who make experiment to take home, there is no fee for any observers).
Driving fee applies >15 miles from zip 91601.
Complimentary t-shirt and poster if it is a birthday.
Take home: Slime!
Subject to availability and blackout dates.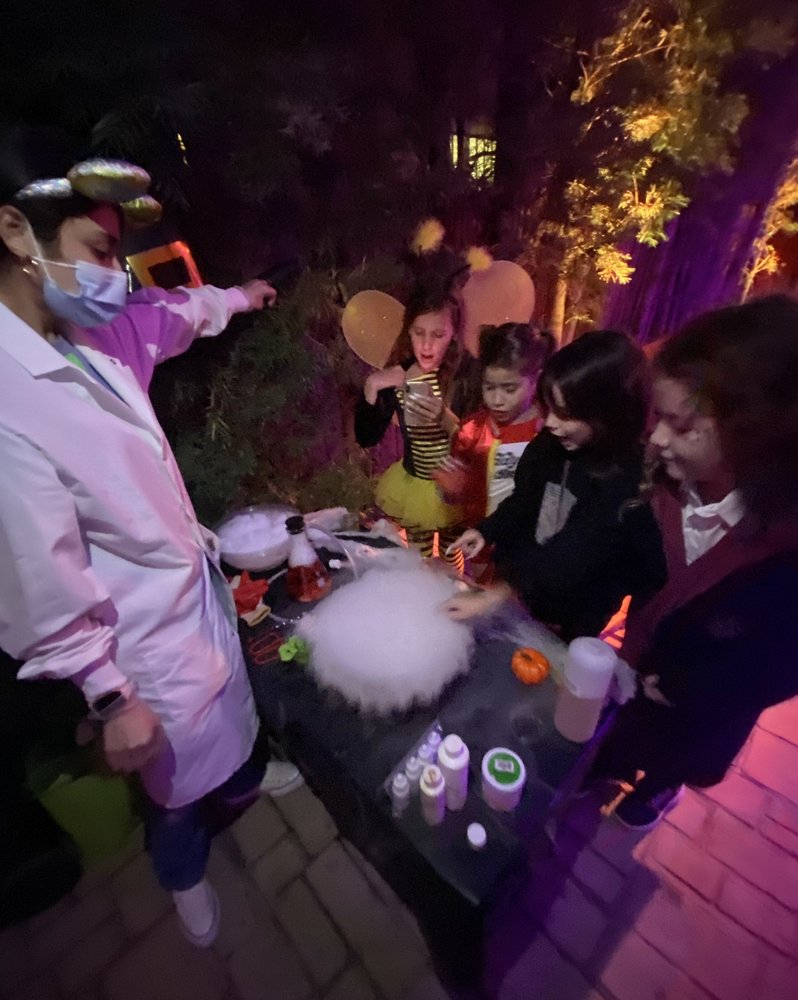 science halloween show - $259 and up
The same as our party, but without the experiment! This show takes our partygoers through over 10 spooky science demonstrations, with dry ice and fun included! The show runs about 45 minutes... if everyone is brave enough to stay!
best for 5-100 kids
Best for Ages: 4-10
Best for: School Event, Holiday Celebration
Length: 45 Minutes
Cost: $259 for up to 50 participants, $299 for up to 100 Participants.
Driving fee applies >15 miles from zip 91601.
Subject to availability and blackout dates.
frequently asked questions
When can I book a Halloween Party?
We run our Halloween Parties from September 30th to October 31st, 7 days a week. Time slots do fill up quickly close to Halloween. The best way to check your party date is to give us a call at 818-856-3996. One of our Party Professors is standing by the phone (within business hours) ready to help.
What if we don't celebrate Halloween?
No problem! We can spookify any holiday. Just let us know your flavor! Professor Egghead runs Purim Parties, and spooky science parties without the halloween decor. Inquire and mention at time of booking.
How Do I Book a Party?
All of our parties are booked by filling out our booking form online or filling out a booking form received via email. Parties are not booked without a deposit received. If you have any questions or need a booking form, please email us at [email protected] or call us at 818.856.3996.
How Far in advance do i need to book?
The earlier the better. We prefer for parties to be booked at least 3 weeks prior to your party date, but we understand that's not always possible. As long as your deposit is received at least one week prior to the party date, we guarantee we'll have a Professor available. With less than one week until your party date, we do not guarantee that we are available, however we work to find a Professor that can run your party and then contact you when we're confirmed. No parties are ever confirmed without a deposit received. 
What times are available?
Whatever time you'd like! We don't set specific party times because w