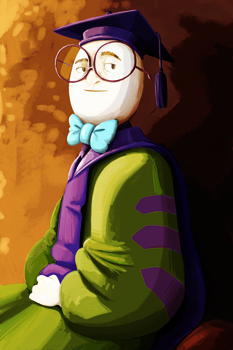 From the Desk of Professor Egghead
Welcome to Professor Egghead Science Academy, one of the greatest and coolest institutions of higher learning in the world. Here at the Academy, good just isn't good enough, fun just isn't fun enough, and anything less than the best just won't cut it. We are a group of Professors who, through trial and tribulation, through hours of exhaustive effort in the laboratory, have developed a one of a kind program for kids all over the world.
We ask all you Eggheads who participate in our program to learn as much as you can and have fun! Our advancements in the awesome fields of Science transcend the walls of the Academy and reverberate across the world to a classroom or home near you. We foster a culture of unbridled ingenuity, perpetuated by a work ethic unrivaled at any other Academy.
Our Egghead Degree Program provides a completely customizable path to understanding science and the world around you. But what really makes us special, what makes us unique, is the diverse group of people that walk the halls of the Science Academy. Eggheads of all kinds, from the wide-eyed youngsters blasting off their first rocket to the seasoned Egghead students with three different degrees in hand. We guarantee a stellar program and after completing any of our classes, you'll see why …science has never been this cool.
Sincerely,
Professor Egghead