BRAND NEW PODSCIENCE™ CLASSES
GET THE FULL PROFESSOR EGGHEAD SCIENCE EXPERIENCE AT HOME DURING THE SCHOOL YEAR. GATHER YOUR FRIENDS, AND SCHEDULE FOR ANY DAY, ANY TIME, AND PLACE.
PRICES START AT JUST $140 A CLASS FOR UP TO 5 KIDS, WITH ALL SOCIAL DISTANCING MEASURES IN PLACE.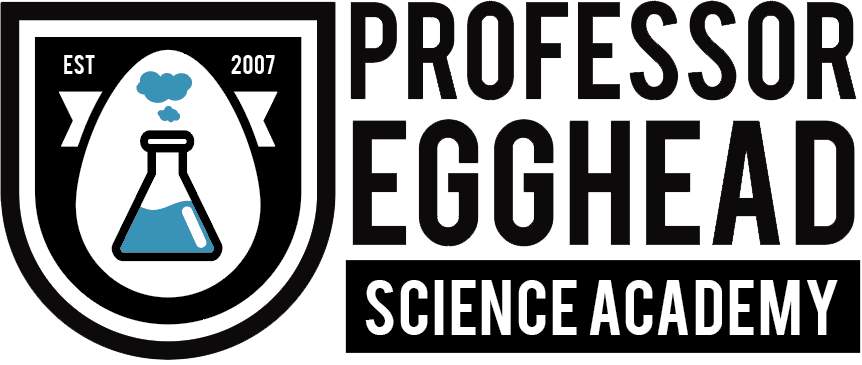 Making Science Accessible, Understandable, and Cool
rocket CAMP REGISTRATION CLOSES IN
Click for Class Description!
​There's a mystery to solve! ​Someone has broken into the Academy, and we need a few good detectives to help track them down! ​Campers will become super sleuths as they use science to solve all types of mysteries​​ while trying to crack the case. They'll test fiber samples and dust for fingerprints, analyze some blood samples (fake of course) and ​experience all types of awesome science demonstrations by their Professor. ​By the end of the week, campers will ​become real super sleuths!
Click for Class Description!
Lace up your boots, grab a compass, and buckle up for a week of awesome adventure science with Professor Egghead! All week at virtual science camp, Eggheads will learn what it means to be Extreme Explorers as they dig for fossils, make tar pits that bubble, clean up oil spills, race magnetic bumper cars, and make snow! Each day at camp, Eggheads will take home their experiments, and by the end they'll be true Extreme Explorers. Caution : Fun Guaranteed
Click for Class Description!
Get ready​ to strap in and blast off with Professor Egghead Science Academy at Virtual Science ROCKET CAMP! ​Every day brings a new challenge as we discover the science behind rockets, planes and everything else soaring through the sky. Eggheads will create, build, and test different types of flying machines like helicopters, rockets, and planes. From bottle rockets soaring ​through ​the air, parachutes safely floating back to earth, and chemical reactions displaying how these awesome machines work. At the end of the week, campers will ​earn their wings, and ​graduate from Egghead Rocket Camp, ready to take to the skies! ​  
classes
We do science, and we do it right. All our science classes are fully hands on, and whether you're at home, in school, or anywhere else, you can join us in the Lab with our in person and online classes.
We provide simple, real world explanations, by getting our hands messy… which translates to real learning. On top of all that, it's fun. Ridiculously fun! We pride ourselves on taking a different approach. We think you'll like it.
parties and Events
It's tough to think of a reason NOT to do science, so when we have a reason to celebrate, there's one answer for what to do. Mix, pour, and have a blast with us as we handle it in style.
Professor Egghead provides Science Parties, Slime Parties, Special Event, Assemblies, Booths, and Workshops on over 100 science and engineering topics. You pick up the phone, and we do the rest. 
A Word
From the Professor
" Thanks for joining me in the lab! I can't wait to experiment with all of you and see you all soon. 
Remember, ANYWHERE can be your laboratory – your house, your school, the beach, your yard, or even your bedroom! Have fun, and mix up something cool!"
In 2007, Professor Egghead began was founded with a mission: To do something different – to bring science in a fun, new way to kids all across LA. Starting with one class of 10 students, we've grown to serve science to over 10,000 students a year. 
Our Professors are actors, comedians, scientists, puppeteers, and come from all walks of life and passions. The one thing they all have in common? A passion for science and unbridled energy for teaching! We pride ourselves on the enthusiasm of our Professors and the quality of our teaching.