💵
SIBLING DISCOUNT

automatically applied at checkout and

saves $25

on each camp registration for a sibling
💵
MULTI WEEK DISCOUNT

automatically applied at checkout and

saves $25

off each additional week of camp after the first.
science summer camp for kids
A summer day camp experience that kids will never forget. With 6 STEM based camps to choose from, and over 120 science experiments, our summer science camp is an experience like no other. 
Each camper will work through a week of HANDS ON fun as they meet new FRIENDS and learn science through EXPERIMENTS with our unique curriculum. Learn more about our camps, or find a location near you where our camps are running.
Step 1: Select Your Type of Camp Below
Step 2:  Register for Camp
Step 3: Have a Blast and Learn Science!
A PLACE TO LEARN
All of our camps are not only a blast, but offer real learning! Each week at camp, we'll become scientists as we learn over 15 different science topics and over 40 keywords. Each day at camp, we'll cover different ideas in science and engineering, and just as with our classes, kinesthetic learning is the key to the retention. 
Each of our keywords has an experiment or build to demonstrate it, and we'll get to take all home all of the experiments we make at camp.
A PLACe TO PLAY
Of course we learn, but we also have fun! The real reason kids love Professor Egghead science camp? They make friends, get messy, laugh, run, and experiment! All of our experiments are certified FUN and lab tested before going out in the field.
From high flying water rockets to stomp pads, solving mysteries and more, each week is a blast at the academy. Check out our themes below, or see locations for camp availability and pricing, as well as registration info!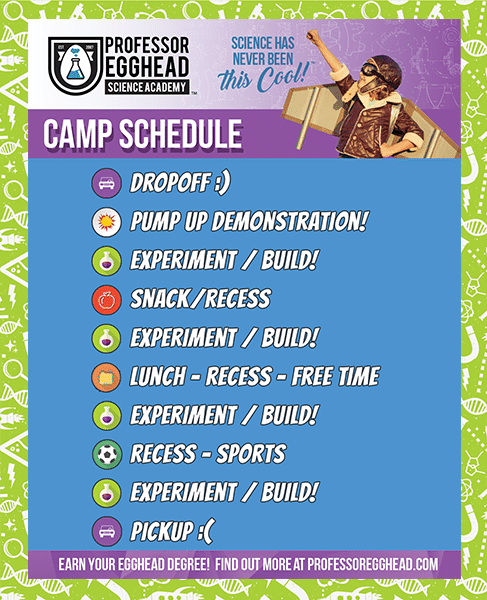 Get ready​ to strap in and blast off with Professor Egghead Science Academy at ROCKET CAMP! ​Every day brings a new challenge as we discover the science behind rockets, planes and everything else soaring through the sky. Eggheads will create, build, and test different types of flying machines like helicopters, rockets, and planes. From bottle rockets soaring ​through ​the air, parachutes safely floating back to earth, and chemical reactions displaying how these awesome machines work. At the end of the week, campers will ​earn their wings, and ​graduate from Egghead Rocket Camp, ready to take to the skies! ​  

Lace up your boots, grab a compass, and buckle up for a week of awesome adventure science with Professor Egghead! All week at camp, Eggheads will learn what it means to be Extreme Explorers as they dig for fossils, make tar pits that bubble, clean up oil spills, race magnetic bumper cars, and make snow! Each day at camp, Eggheads will take home their experiments, and by the end they'll be true Extreme Explorers. Caution : Fun Guaranteed!

​There's a mystery to solve! ​Someone has broken into the Academy, and we need a few good detectives to help track them down! ​Campers will become super sleuths as they use science to solve all types of mysteries​​ while trying to crack the case. They'll test fiber samples and dust for fingerprints, analyze some blood samples (fake of course) and ​experience all types of awesome science demonstrations by their Professor. ​By the end of the week, campers will ​become real super sleuths!

Think you've got what it takes to be an Egghead Machine Engineer?! Using LEGO™, students will design and build real mega machines like spinning windmills, lifting cranes, elevators, cars, and way more. All week we'll be using wheels, bands, gears, pulleys, and tons of other cool specialty Lego pieces to build our Machines, and then after the building phase is complete we'll put them to the test. That means we'll try to break 'em, blow them over, and put weight on them. If you pass the test, you pass the challenge! By the end of the week, campers will become real LEGO Engineering Masters!

Come join the Egghead Engineering Team this week as we design and build huge structures! Using LEGO™ students will build mega bridges that can withstand over 4 lbs. of weight, 4 foot tall skyscrapers, awesome lighthouses, and tons more. Then, we'll try to knock em down, crush them, and put them to the test! At the end of the week, students will receive an Egghead Engineering Super Structures Degree proving they're ready to build anything they can dream up!

​Strap in, because this week the Egghead Engineering team is hopping in the time machine and going back in ancient history to build huge engineering marvels! Using LEGOs, students will build awesome ancient creations like aqueducts, huge dams, wells, and giant coliseums. Then, we'll test them with the crush test, the weight test, and all of our other tests to make sure they can stand up to the challenge! All Eggheads will get their Ancient Engineer ID card, authorizing them to design and build any ancient wonder they can think of. At the end of the week, they'll also get their official Ancient Engineer Degree – proving they're ready to build the toughest challenges!
frequently asked questions
How do I register for camp?
By computer! We are huge advocates of technology at the Academy. Scroll up for our summer camp schedule and it will give you instructions on how to sign up for each camp. If you have any questions or difficulty registering, contact us at 818-856-3996 or [email protected]
What do i need to bring to camp?
Please pack your Egghead a hearty lunch and at least two healthy snacks… one for the morning and one for the afternoon. Campers are not allowed to share food. Please note any food allergies with us, and please remember to put on that sunscreen before coming to camp, and to send some along as well! We'll have extra, but it never hurts.
What are camp hours?
Camp hours can change slightly at each location but the general rule is camp starts at 9:00 am and ends at 3:00 pm. Drop off begins at 8:50 am and pick up starts at 3:00 pm. Some camps do end at 4:00 PM, and for half day camps hours will vary. Please carefully check all registration sites for camp times, and let us know if you have any questions or if you note any discrepancies.
Do you offer extended care?
Each camp location is different so be sure to find out before camp. Scroll up for our summer camp schedule and see which camps offer extended care.
What if I am running Late?
Of course we know it happens. If you know you are running late be sure to call the camp before pick up. There is a strict $1.00/minute late pick-up fee that begins 10 minutes after camp ends, and goes directly to the Professors for their time waiting.
What is your refund policy?
For camps registering through Professor Egghead, all transfers must be made no later than 1 week before the start of your camp. Cancellations 30 days prior to camp will be issued a full refund, minus a $25 processing fee. Cancellations within 30 days of camp will be issued a credit for a future camp. For other camp locations not run through Professor Egghead, refund policies are at the discretion of those camps, visible when registering on their respective pages.
Can I request to be with a friend?
Totally! When you register, give us a call or send us an email with the request. Be sure to coordinate with your friend to make sure you sign up for the same camp. For camps not registering through Professor Egghead, please contact the park and recreation or city you are registering through. 
Do You Accomodate Special Needs?
We make all possible accomodations to suit your Egghead where possible. While we are extremely sensitive to any and all needs that students may have, there are some that fall outside the scope of what we are able to accomodate or manage. Please contact to discuss. We do reserve the right to remove any students for behavior that may be dangerous to other campers, be disruptive, or be a liability.