virtual/ONLINE science camp
what is virtual SCIENCE camp?
At Professor Egghead Science Academy, we know the science doesn't stop just because we're not in the classroom or able to have traditional camp. Virtual Camp offers all of the benefits of a traditional camp, but remotely! For just $224/week, youll...
Get all materials for Science and Engineering Camps, including a free t-shirt ($20 Value)

See mind blowing science demonstrations

Do hands-on science experiments with your fellow Eggheads

Play interactive games and engage in interactive science content

 Watch science videos

Make new friends and learn science!
Read on to see HOW TO REGISTER, WHAT A DAY LOOKS LIKE, OUR THEMES, AND HOW WE GET YOU MATERIALS!
how to register ONLINE
Of course we learn, but we also have fun! The real reason kids love Professor Egghead science camp? They make friends, get messy, laugh, run, and experiment! All of our experiments are certified FUN and lab tested before going out in the field.
From high flying water rockets to stomp pads, solving mysteries and more, each week is a blast at the academy. Check out our themes below, or see locations for camp availability and pricing, as well as registration info!
Registration is easy! Simply browse our camp weekly themes, see what jumps out at you, and register with our fast checkout. 
After you register for camp, you'll receive information for your selected week of camp - it's that simple!
If we're going to be doing science, we're going to need materials! Luckily, we've planned it all out for you, so that all you need to do is register for class and let us do the rest. 
See below for how you'll get your materials depending on your location and when you register. If you register for virtual science camp with more than two weeks notice, we'll ship you all of your materials needed. Your box will arrive with everything needed for camp, including science materials, legos, and any extra goodies, plus a FREE SHIRT to wear to camp each day!
If you are located more than 20 miles from zip 91202 (Glendale, CA), mail is the only option for your materials delivery. Please make sure your address is accurate on your registration or let us know if you have any special considerations. Registering late for virtual camp inside of two weeks? No problem!
Inside 20 miles of zip 91202 (Glendale, CA), you can sign up until Thursday night the week before camp (4 days before start) and we will get you materials by Monday morning. We will coordinate with you to drop at your location. If you have any questions on materials drops, our office line is open at 818-856-3996. Really want to make it to camp? For late registrants after Friday, we do provide an option for you to pick up supplies directly from our Glendale office and join for Camp on Monday. Registration is open through the weekend for materials pickup, however all camp fees do apply and registration is contingent upon supplies existing and coordination being possible for pickup. We do not guarantee any ability to coordinate a materials delivery in this way, however you can call 818-856-3996 or email [email protected], and if we're able to help out and put materials out for you, we'll allow registration.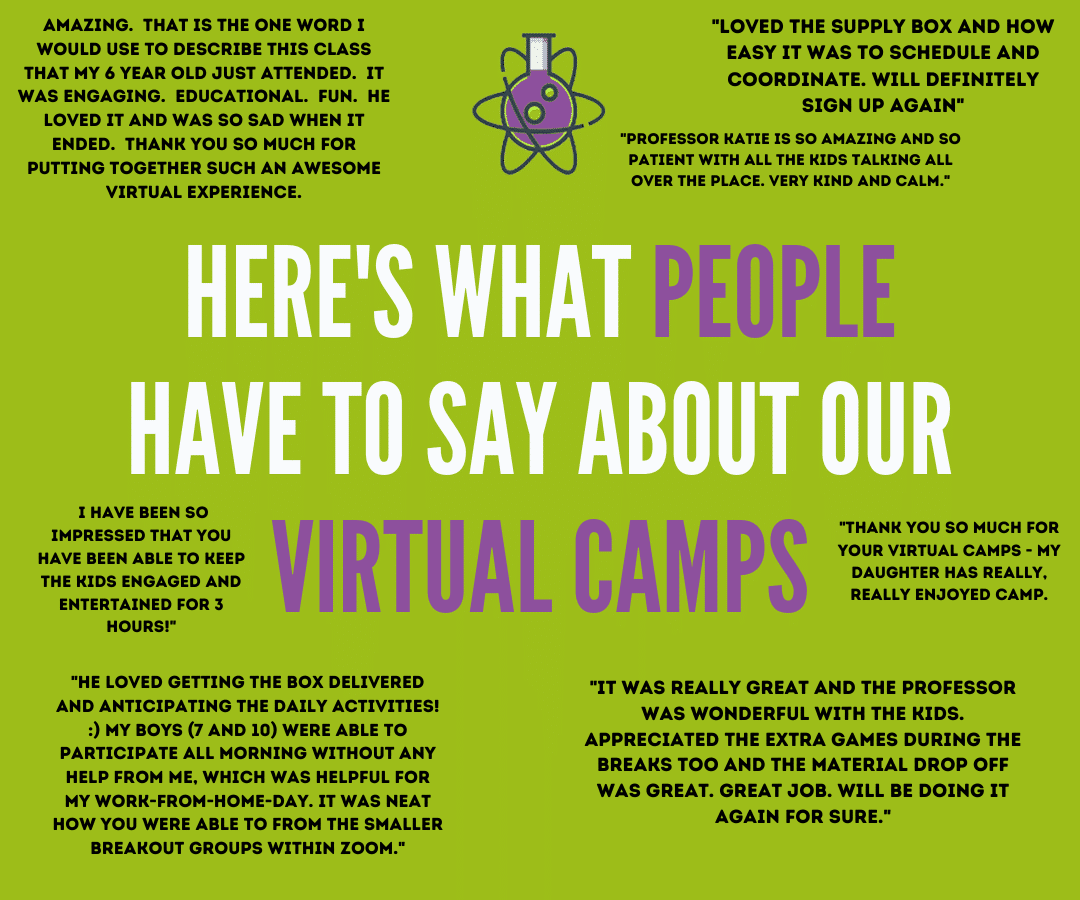 VIRTUAL/ONLINE SCIENCE CAMP REGISTRATION
$224 / 5 Days with materials delivered
Ages 5-10, 9AM-12PM pst
ALL TIMES ARE IN PACIFIC TIME

July 19th - July 23rd: 9 AM - 12PM PST

July 26th - July 30th: 9 AM - 12PM PST

August 2nd - August 6th: 9 AM - 12PM PST

August 9th - August 13th: 9 AM - 12PM PST
a day in the life: daily camp schedule
Camp Kickoff and Morning Demos!

Lace up your boots, grab a compass, and buckle up for a week of awesome adventure science with Professor Egghead! All week at virtual science camp, Eggheads will learn what it means to be Extreme Explorers as they dig for fossils, make tar pits that bubble, clean up oil spills, race magnetic bumper cars, and make snow! Each day at camp, Eggheads will take home their experiments, and by the end they'll be true Extreme Explorers. Caution : Fun Guaranteed!

Get ready​ to strap in and blast off with Professor Egghead Science Academy at ROCKET CAMP! ​Every day brings a new challenge as we discover the science behind rockets, planes and everything else soaring through the sky. Eggheads will create, build, and test different types of flying machines like helicopters, rockets, and planes. From bottle rockets soaring ​through ​the air, parachutes safely floating back to earth, and chemical reactions displaying how these awesome machines work. At the end of the week, campers will ​earn their wings, and ​graduate from Egghead Rocket Camp, ready to take to the skies! ​  

​There's a mystery to solve! ​Someone has broken into the Academy, and we need a few good detectives to help track them down! ​Campers will become super sleuths as they use science to solve all types of mysteries​​ while trying to crack the case. They'll test fiber samples and dust for fingerprints, analyze some blood samples (fake of course) and ​experience all types of awesome science demonstrations by their Professor. ​By the end of the week, campers will ​become real super sleuths!
frequently asked questions
How do I register for camp?
By computer! We are huge advocates of technology at the Academy. Scroll up for our summer camp schedule and it will give you instructions on how to sign up for each camp. If you have any questions or difficulty registering, contact us at 818-856-3996 or [email protected]
What do i need to bring to camp?
Just yourself! Since we're virtual, you don't need to bring anything. Just make sure to get your materials together for the day, throw on your Egghead Shirt if you want to, and get ready to have fun!
What are camp hours?
Virtual Camp hours are 9:00 AM - 12:00 PM. We will start our camp meeting at 8:50 AM each day to allow time for everyone to log on, but will begin promptly at 9:00 AM, so don't be late!
What is your refund policy?
For camps registering through Professor Egghead, all transfers must be made no later than 1 week before the start of your camp. Cancellations 30 days prior to camp will be issued a full refund, minus a $25 processing fee. Cancellations within 30 days of camp will be issued a credit for a future camp. For other camp locations not run through Professor Egghead, refund policies are at the discretion of those camps, visible when registering on their respective pages.
Can I request to be with a friend?
Totally! When you register, give us a call or send us an email with the request. Be sure to coordinate with your friend to make sure you sign up for the same camp. For camps not registering through Professor Egghead, please contact the park and recreation or city you are registering through. 
Do You Accomodate Special Needs?
We make all possible accomodations to suit your Egghead where possible. While we are extremely sensitive to any and all needs that students may have, there are some that fall outside the scope of what we are able to accomodate or manage. Please contact to discuss. We do reserve the right to remove any students for behavior that may be dangerous to other campers, be disruptive, or be a liability.